Crystalline Silicon Terrestrial Photovoltaic Cells –
Supply Chain Procurement Specification Guideline Report
Download the one-page summary (PDF, 166KB) or the full report (PDF, 3.47MB).
Overview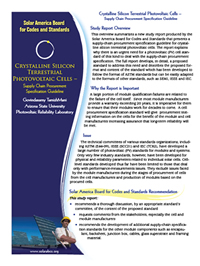 This overview summarizes a new produced by the Solar America Board for Codes and Standards that presents a supply-chain procurement specification guideline for crystalline silicon terrestrial photovoltaic cells. The report explains why there is an urgent need for a photovoltaic (PV) cell standard of this kind to deal with the supply-chain procurement specification. The full report develops, in detail, a proposed standard to address this need and describes the proposed format and content of the standard which has been developed to follow the format of ASTM standards but can be easily adapted to the formats of other standards, such as SEMI, IEEE and IEC.
Why the Report is Important
A large portion of module qualification failures are related to the failure of the cell itself. Since most module manufacturers provide a warranty exceeding 20 years, it is imperative for them to ensure that their modules work for decades to come. A cell procurement specification standard will give procurement testing information on the cells for the benefit of the module and cell manufacturers increasing assurance that long-term reliability will be met.
Solar America Board for Codes and Standards Recommendation
This report:
recommends a thorough discussion, by an appropriate standard's committee, of the content of the proposed standard
requests comments from the stakeholders, especially the cell and module manufacturers
recommends the development of additional supply-chain specification standards for the other module components such as encapsulant, backsheet, junction box, cables, glass superstrate and framing material.