Solar ABCs White Paper: Impacts on Photovoltaic Installations of Changes to the 2012 International Codes
Download the full report (PDF, 369KB).
Overview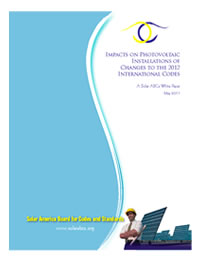 This white paper provides an overview of changes related to photovoltaic (PV) installations in the 2012 International Building Code (IBC) and International Residential Code (IRC). These codes include requirements for building-integrated photovoltaic (BIPV) products and rack-mounted PV products. For each of these products, the codes include requirements for installation, materials, wind resistance, and fire classification. This information is intended to assist code officials, solar installers, and roofing contractors as they interpret and use these codes.
The Solar ABCs has published a separate document on the changes to the International Fire Code (IFC), entitled "Understanding the CAL FIRE Solar Photovoltaic Installation Guideline." The 2012 IFC includes requirements for PV installations, and the Solar ABCs report describes the California solar installation guidelines and the similar 2012 IFC requirements.
Key Findings
This white paper documents changes found in three sections of the 2012 IBC and two sections of the 2012 IRC:
IBC Section 1505—Fire Classification,

IBC Section 1507 and IRC Section R905—Requirements for Roof Coverings, and

IBC Section 1509 and IRC Section M2302—Rooftop Structures.
Important observations include:
The requirements are different for BIPV systems and rack-mounted PV systems.

Until a new PV system fire classification test is finalized and adopted, Section 1509.7.2 of the IBC, as written, may be difficult to apply.

IBC Section 1509.7.1 prescribes the use of components and cladding requirements of current codes and standards as the basis for calculating wind loads on PV arrays. This provides helpful guidance for wind engineering calculations, but may not provide results consistent with other methods accepted and used today.
You can order the 2012 IBC and 2012 IRC at: www.iccsafe.org/Store/